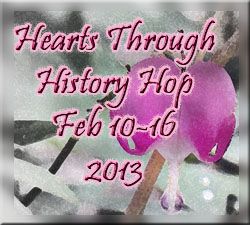 Welcome to the Hearts through History Hop.
This is probably the oldest surviving Valentine's letter in the English language. It was written by Margery Brews to her fiancé John Paston in February 1477. Describing John as her 'right well-beloved valentine', she tells him she is 'not in good health of body nor of heart, nor shall I be till I hear from you.' She explains that her mother had tried to persuade her father to increase her dowry - so far unsuccessfully. However, she says, if John loves her he will marry her anyway: 'But if you love me, as I trust verily that you do, you will not leave me therefore.' There was a happy ending to the story, as the couple would eventually marry.
The letter comes from one of the largest collections of 15th century English private correspondence, known as the Paston letters. The collection offers a unique glimpse in to the personal lives of the Paston family from Norfolk - the family name comes from a Norfolk village about twenty miles north of Norwich. The Pastons had risen from peasantry to aristocracy in just a few generations: the first member of the family about whom anything is known was Clement Paston (d. 1419), a peasant, who gave an excellent education to his son William, enabling him to study law. John and Margery's son, William, would become a prominent figure at the court of King Henry VIII.
While my Regency romance, Vidal's Honor, is not set in Norfolk, its opening scene is based on historical fact.
The Battle of Salamanca -part of the then Earl of Wellington's (later to become the famous Duke of Wellington) Peninsula campaign, took place in Spain in July 1812, and while my historical heart throb, Charles Vidal is not present in the first scene, he is definitely one of the strong silent and detirmined heros of the time.
For him it is a 2nd chance to win the love of his life. But circumstances are against him.
Betrayal, espionage, and mistrust abound and it hard for him to know who his eneies are. Could it be possible that the only woman he's loved betrayed his best friend?
He soon discovers his attempt to maintain a discreet distance from Honor, Lady Beamont, is drawing unwanted attention from another enemy...
"He's been watching all of us."
"Indeed," Juan agreed, and laid a hand on Vidal's sleeve, "but now it is more calculating. He notices how you avoid Honor, and I'd wager is conniving how he can turn this to his advantage. If you do not take care you will arrive home to find yourself accused of plotting her husband's death so you can marry her."
It made a macabre kind of sense, Vidal acknowledged. He'd avoided Honor to prevent the very conclusions Juan predicted.
"In my endeavour to prevent that, it seems I have leaned too far the other way."
Available from:-
Amazon.com
http://tinyurl.com/bpu7o75
($o.99c)
Just answer the following question for one luck commenter to win a pdf copy of Vidal's Honor. (Don't forget to include your email address to be in with a chance.)
The winner will be announced before the 20th Feb.
Who is your favourite historical hearthrob and why?
List of Links to include at the end of each post:-
Hop Participants